mobile spa ultrasonic face firming device
Brief introduction:
adopts the 3 most effective & internationally recognized skin care technology: Ion, Photon therapy & Ultrasonic, which enables this generous device to effectively solve following skin problems: spots, black heads, puffiness, eye bags, acne, pimple, ageing of skin etc. Thus helps you keep your skin at the youngest state.
Color options: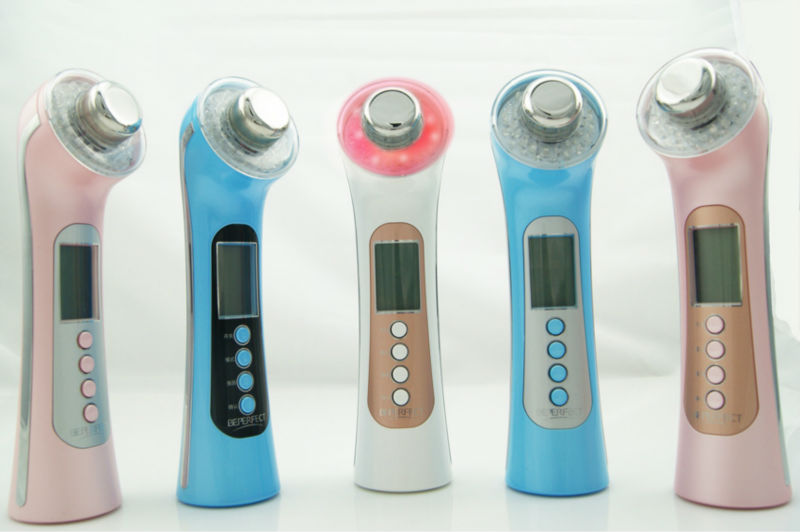 Features:
* Dynamic light detector
100% anti-oxidation to ensure probe keeps shiny, non-oxide safe and reliable.
* Three dynamic light: High energy, fully focused, to experience the perfect feeling for different skin types.
12pcs Red LED: 622-628nm; 12pcs Green LED: 522-528nm; 12pcs Blue LED: 462-468nm
* 3 Mhz Ultrasonic massages cells precisely, and rise temperature in deep skin, help promote absorption of essences, accelerate metabolism, reinforce the regenerative course of tissue. Also, the powerful ultrasound helps you lose weight and cultivate your figure.
* Positive ion & Negative ion for skin lifting, tightening, deep cleansing etc.
* Bio-wave massage helps to relax your skin, promote blood circulation and increase metabolism. Optional choice for continuous massage.
* The combination of different technology gives you a better skin care result.
* All kinds of color for different visual effect. Red, white, pink etc for your choice.
*Intelligent LCD Screen shows working status.
Clinical application:
Deep clean the skin
Deep moisturizing
Skin firmness
Eliminate facial swelling, reduce double chin for face shaping
Dilute the spots, whitening
Eliminate dark circles, eye bags.
A full set contains:
1pc main device
1pc power supply wire
1pc powder adaptor
1pc goggles
1pc User's manual
Payment & Delivery:
T/T, Paypal & West Union.
Delivery: 1-3 days for samples. And 3-5 days for small order if we have stock.
20-25 working days upon payment for OEM orders.
Shipping: DHL, UPS or TNT etc, arrive in 3-7 working days.
Air shipping & sea shipping are also available.
Warranty: 1 year upon delivery.
FAQS:
Q: Can I get samples before place order in bulk? How can we Pay?
A: Samples are available. We accept PAYPAL & W.U..
Q: Do you sell cosmetics for the device? What kind of cosmetic shall we use?
A: We only manufacture devices. Conductive gel or creams are ok. Usually the cosmetics you use are ok.